Flowers are a happy thing and often make us smile. They can bring joy and happiness! Did you know patients in the hospital who have flowers in their room need less medication, aren't as tired and had lower Blood Pressure.
A university study found that there is a link between flowers and your satisfaction in life. The more you're around flowers the happier you will be. It's funny that isn't! the 1960's activists that raved about "flower power" were onto something. See we've always intuitively known flowers are good for us. When someone dies we get the ones grieving flowers. When someone is ill we often get them flowers. When its mothers day or even just a spontaneous gift to cheer up the wife – we gift flowers.
Having flowers in your house will increase happiness, reduce depression, reduce anxiety and increase the communication between your friends and family. It's like this happy drug and being in its presence will give you positive benefits.
Another study, this time by Harvard University found that flowers increased compassion, reduced negative feelings and increased energy. Another study proved that flowers and plants in the work place encouraged creativity and improved problem-solving skills.
So other than flowers and plants being known to contribute to beautifully decorated interior spaces but they also provide health benefits too. Flowers are a great finishing touch to any space and can add life and color.
If I haven't already convinced you yet I'm really hoping the next couple of images really persuade you to introduce flowers to your home.
How nice does this table look? The flowers match the green table cloth! Everything from the shape of the plates to the colour scheme of the room is good.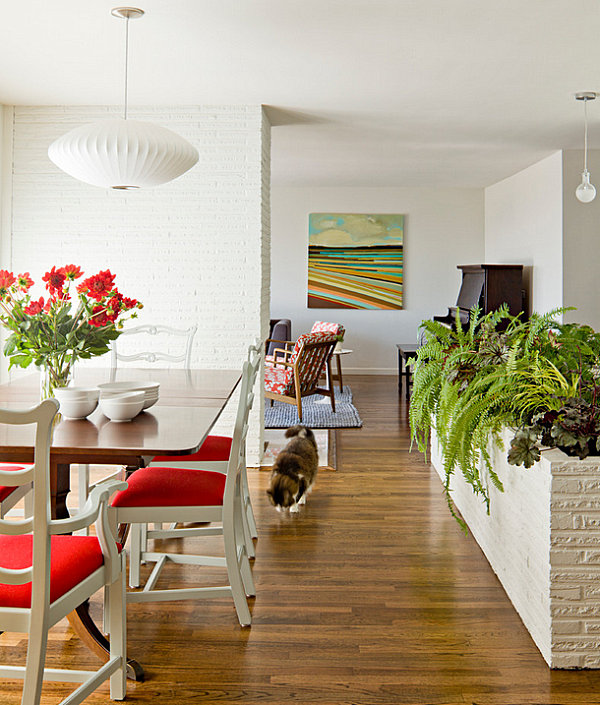 How amazing is this dining area though! The chairs go so well with the floor and the bricked wall matches the floor too! The flowers/plants in this room are a great highlight as well.
Just remember as well, you don't need to have flowers gifted to you. You can buy them yourself and honestly I think everyone should have a couple of plants in their house. Plants clear the air and you can actually get certain plants that are great at specific jobs. For example, the Spider plant is brilliant at removing formaldehyde and xylene. The Garden Mum can remove ammonia, benzene, formaldehyde, and xylene. You've also got Dracaena, Ficus, Peace Lily and so much more that do such a good job too.
So hopefully by now I've convinced you! why don't you check out Bloom Magic Flowers and see what you can find!